Spring Cove Marina offers a Full Service Boatyard
FIRST CLASS SERVICES FEATURING:
Complete mechanical repair and maintenance.
Custom marine services.
Quality spray painting and fiberglass repair.
Haul-out service with a 50-ton Travel Lift.
Indoor service bays for boats up to 65′.
We are a proud ABYC Member and perform all repairs to top industry standards.
The Boatyard facility is set back from the waterfront and the main part of the Marina so as not to encroach on the tranquility and natural beauty of the Marina. Spring Cove's 10-acres of property leaves space for up to 220 boats in Dry Storage, and the entire facility is secured with a perimeter fence, lighting, and security cameras.
AUTHORIZED MERCURY/MERCRUISER SERVICE CENTER
Visit Spring Cove Marina for all your Mercury & Mercruiser needs!
Certified Service Technicians and experts are on staff to help you with regular maintenance, repair, and re-power services.
BOATYARD RULES & POLICIES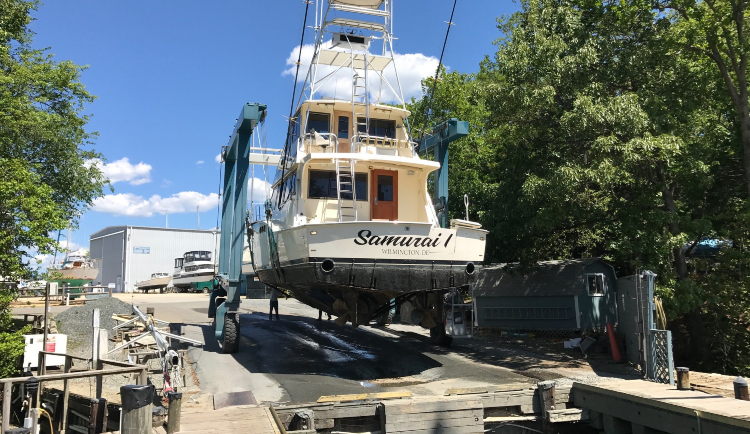 A COMMITMENT TO THE ENVIRONMENT
Our Boatyard employs environmentally-friendly practices to minimize the impact on the Chesapeake Bay.
Spring Cove has been a certified Maryland Clean Marina since 1999 and we are proud to be an industry leader in pollution prevention and environmental protection.
COMMITTED & EXPERIENCED EMPLOYEES THAT CARE
The Spring Cove Boatyard employs a full-time crew of technicians with a wide range of skill-sets.
We are a proponent of education and make an effort to keep our technicians trained and certified in the latest marine standards and practices. All Boatyard work is done to ABYC and Manufacturer Standards.
Additionally, we have Certified Travel Lift Operators, full-time yard crew, a Parts Department, and Administrative support.
All of our employees take pride in their work, and we will do everything we can to ensure you have a positive Boatyard experience!